Paragliding license
In France, paragliding license is not mandatory but we advise our pilots to get it.
Paramotor license
Paramotor license is required to fly over French territory. It is issued to French, Belgian, Luxembourger or other EU countries pilots.
The knowledge test
A theoretical session of the Paramotor pilot license is organized approximately every month by the Directorate General of Civil Aviation. It is the MosAiles school which establishes your registration file.
The exam takes the form of multiple choice questions (40 questions), dealing with aerology, human factors, equipment, navigation, altimetry and regulations. These questions are common to all ULM classes. Thirty correct answers are required to obtain this first part of the paramotor patent.
The Mosailes school will help you prepare for this test, through courses and advice throughout your training.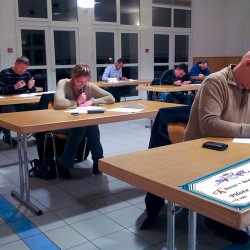 The practical test
It can take place on one session (one-time evaluation review) or continuous control (during a training period).

In most cases, count fifteen training sessions (5 initiation + 10 development sessions).
A license can cost you between € 50 and € 1,290. Feel free to call the school for more information.
MosAiles is the first French paramotor school Labelled by the French Federation of Microlight (FFPLUM). With this label, a scholarship of € 400 may be obtained by those who receive their certificates before 25 years old.